Outsourcing is a common strategy used by companies to get access to the global talent pool, support their teams, and develop top-tier software products. It is usually an effective way to reduce costs and keep quality at a high level, winning the competition in the market. Read on to learn more about the benefits and disadvantages of outsourcing.
CHAPTER #1
Outsourcing in 2019-2021: Some Context
IT outsourcing is not a new phenomenon on the market: it has been actively assisting and supporting businesses for decades. With every year's unique challenges and the ever-growing globalization, outsourcing is becoming even more common. For example, in 2019, it reached 92,5 billion dollars in market size.  
Suddenly, the pandemics of 2020 disrupted such growth. Budgets were kept tight as businesses faced operational challenges and revenue declines. You might have thought outsourcing would also be left behind… if it weren't for 2021's high demand for software solutions, and consequently, outsourcing. The need for IT services far exceeded supply. 
Although 2021 is over, the main challenge – the talent gap – is still one of the top reasons businesses outsource more than ever.
But besides the availability of a large talent pool, what is the appeal of outsourcing? Listed below are 15 benefits of IT outsourcing we find especially convincing and relevant to businesses in 2022!
CHAPTER #2
6 Benefits of Outsourcing
Even though each outsourcing case is different, Deloitte has outlined the top 5 typical reasons for this type of collaboration. Those reasons win the top 5 places in our list of benefits of outsourcing.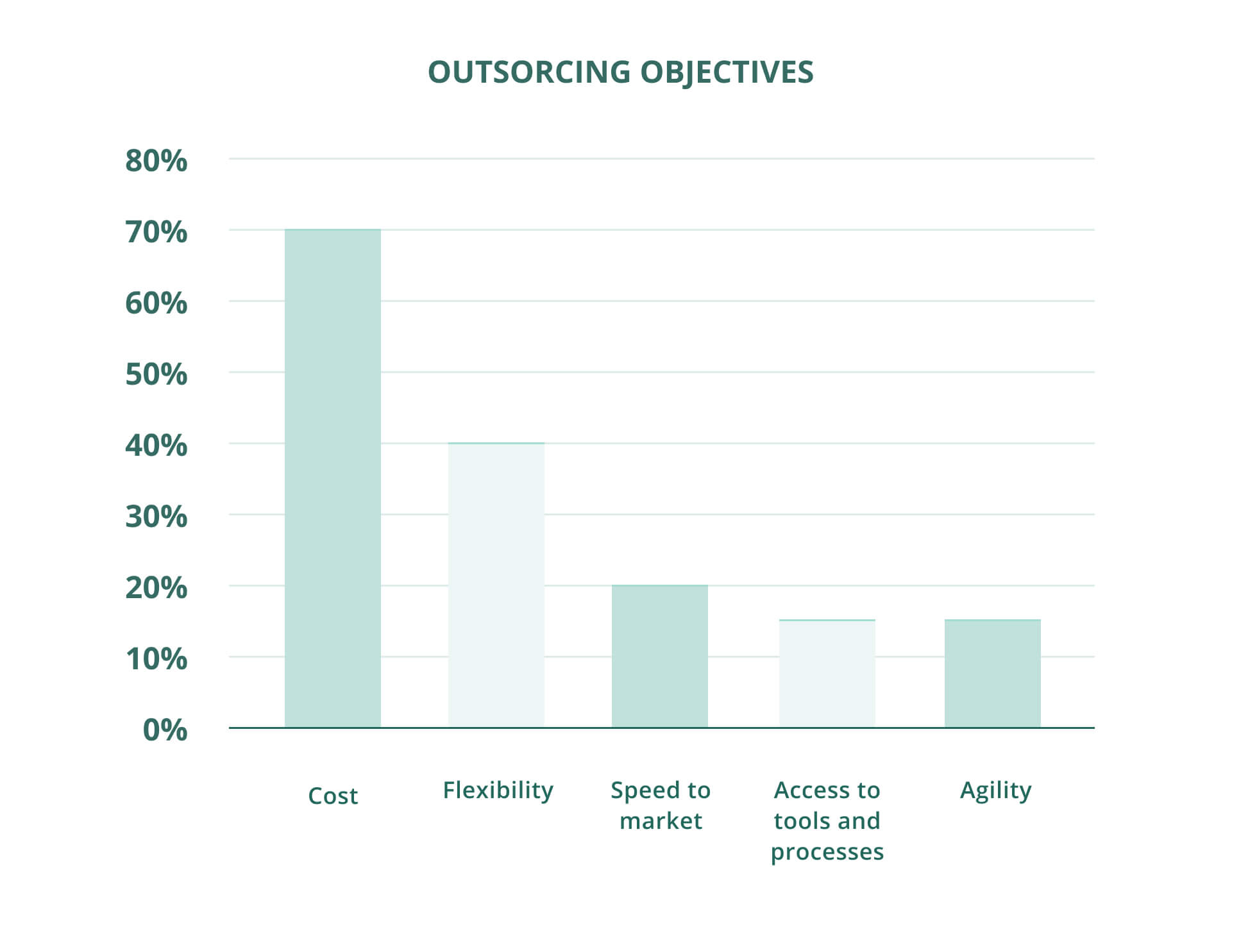 Source: 2020 Global Outsourcing Survey
Reason #1: Cost Reduction 
It has always been the pricing efficiency that has led to companies choosing to delegate the tech delivery outside. In most instances, low prices do not necessarily translate into low-quality services. In fact, it is often the case that when you outsource to countries with relatively low rates, the quality of the developers might surprise you for the price you pay. However, it will also largely depend on the outsourcing vendor you choose – so do it wisely. 
Why can the price differ so much despite similar services? It's all up to the country's economic, social, political, and educational environment.
Source: 2022 Global Software Outsourcing Trends and Rates Guide
Reason #2. Flexibility
As a result of outsourcing, you avoid many operational and administrative tasks that would otherwise cost you time, effort, and money. 
Outsourcing will eliminate the burden of providing office space, HR services, recruitment, team building, accounting, workstations, conflict resolution, and perks for your team. Specific service models don't even require you to manage people. All of that can be handled by your vendor. As a result, it allows you to devote more time to other tasks. Instead of focusing on technology, you can transform and improve business-related things.
Reason #3. Speed to market 
Outsourcing reduces the time you would spend looking for the right people for your project. Even though talent shortage is also a problem for outsourcing vendors, they still have more contacts and resources to find just the right developers for you. 
Moreover, they can advise you on how to structure and constitute your team so that it is time-efficient and productive. After all, it's what vendors are experts at!
Reason #4. Access to tools and processes
It is common for non-tech companies to lack some tech tools and processes. And that's okay – you don't need to be able to do everything perfectly. As such, it makes sense to dedicate most of your time to what you do well (business operations) while outsourcing the things you aren't good at (in our case, technology operations). 
As well as helping fill in the tech expertise gaps, vendors will use tools and best practices that proved to be efficient during the many years of their experience. Moreover, outsourcers – who have completed a large number of similar projects – will offer you the most relevant recommendations.
Reason #5. Agility 
Optimizing work is not just a one-time task. It is crucial to improve this process constantly, especially when the project (and hence the workload) grows. Typically, outsourcing companies work with businesses of different sizes (from small niche startups to large enterprises). So they most likely know how to arrange and plan various workloads so that they are as efficient as possible and results-oriented at the same time. All of that without losing track of the big picture, no matter how large the project is. This is the beauty of IT methodologies!  
Reason #6 Relevant skillsets of any seniority 
Outsourcing is one of the main ways to find IT enthusiasts who have rare skills, unique knowledge, and innovative thinking to take your project forward. Making your team more diverse will result in a better mix of skill sets, seniority, and experience. Not to mention that you can find excellent specialists in certain countries for considerably lower prices. Below, for example, are the most popular programming languages in Ukraine that you can outsource. 
CHAPTER #3
6 Cons of Outsourcing
Con #1. Talent shortage
Yes, outsourcing grew in popularity in 2021 due to the difficulties with hiring on-premises. Yet, at the same time, such enthusiasm and burgeoning demand for IT services also led to a talent shortage in this industry (even in popular destinations like India, Ukraine, and Thailand). 
Even outsourcing leaders are experiencing difficulty finding relevant specialists as quickly as they did in the past. The demand for software engineers is much higher than the speed at which they can actually learn to code and enter the industry.     
Consequently, you will have to wait a little longer for the vendor to assemble your team than you would, for example, in 2019. Even so, it will still be faster than setting up an in-house team from scratch.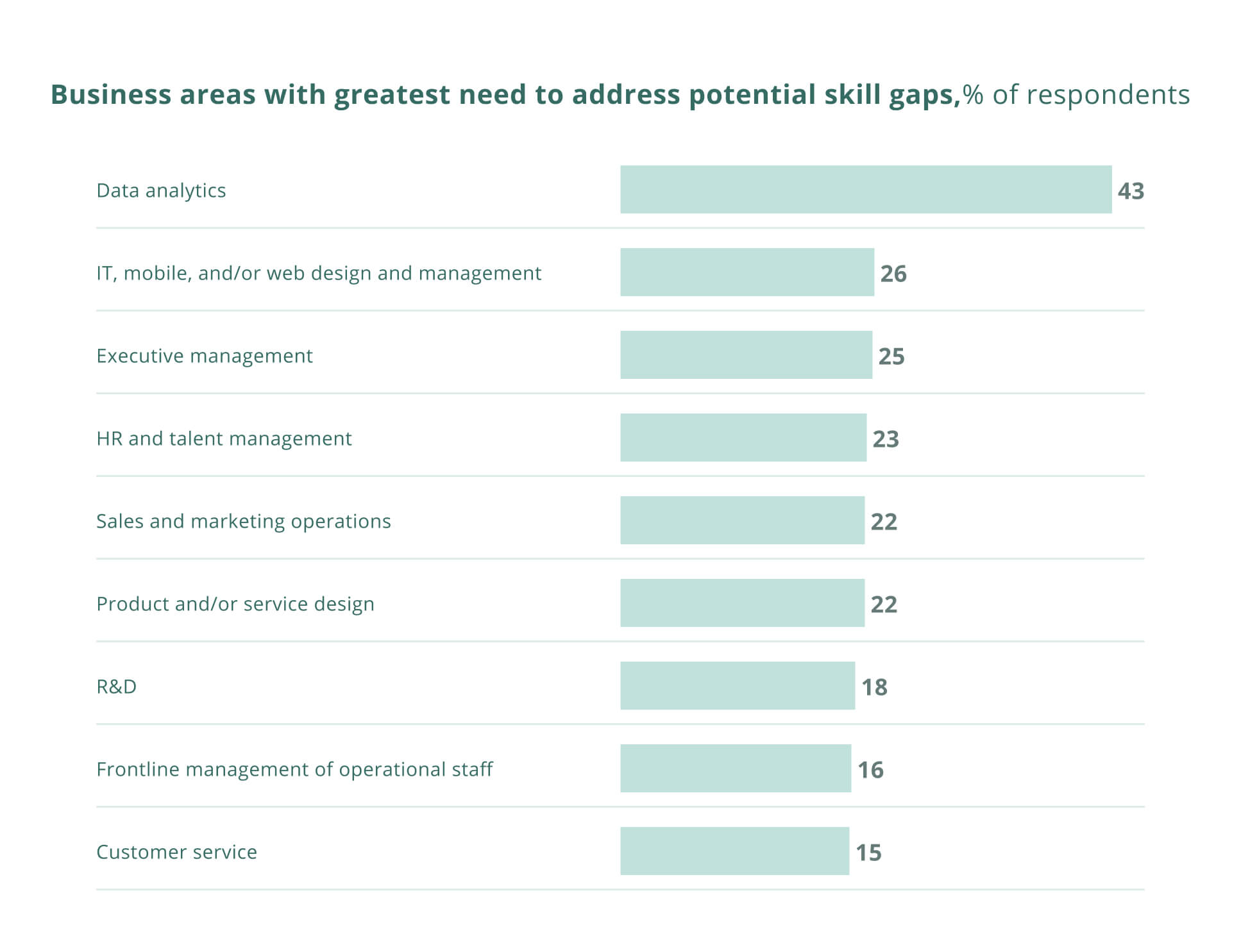 Resource: Beyond hiring: How companies are reskilling to address talent gaps
Con #2. You need to be ready to outsource
There are different levels of involvement required for various outsourcing models. When delegating the entire project's development from scratch, you will only need to provide the requirements. If you outsource part of the project, you'll need to be more present in the working process to provide context and help manage the team (because there are more dependencies on you). Outstaffing involves full responsibility for specialists' management, monitoring, and support. 
Whatever outsourcing model you choose – you need to be ready for in terms of operations, time, and budget. And if you are not prepared – the collaboration is likely to fail.
Con #3. Cultural and linguistic differences
Whenever you outsource to a country with a different cultural background, language, and even mentality from your own, you may encounter communication barriers. Culture may largely influence the business style, level of innovation/conservatism, etc. 
Of course, most companies that want to succeed in tech hire specialists with solid English language skills and strong work ethics. However, when outsourcing, cross-cultural and linguistic barriers are more likely to arise.
Con #4. Hour differences
Most of the time, hour differences do not pose much of a problem, especially if you delegate the whole management to your outsourcing vendor. Nevertheless, it might cause late replies, delayed responses to comments, and difficulty arranging meetings. As a result, you will need a period of adaptation and extensive planning if the time difference is significant.
Con #5. Security risks
When you outsource, you do not get to see what is going on in the work environment just by walking in the office. Typically, you are in another country or continent. 
Hence, this may expose your information to security risks. Do the employees use personal or company-provided devices? Are they following the security policy? Are they actually performing their duties? Do they comply with the security protocols? You never know 100%. 
It's okay, though. The solution is to hire an outsourcing vendor with security-ensuring processes in place (along with all the necessary documentation, certifications, and technical equipment). And if you feel you cannot trust your vendor – then it's not the right partner for you.
Con #6. Vendor selection
Often, it tends to be challenging to choose one vendor just by analyzing the information available on the Internet. Plus even with the extensive research and signed papers, you never know: will they actually deliver on what they have promised on call? 
It is essential to select a reliable and secure outsourcing vendor not only for the sake of your project's success. But also so that you don't lose belief in outsourcing powers just because of one irresponsible vendor.
So how do you choose one? We wrote the whole article about it – you can check it via this link!
As you put together the pros and cons of outsourcing, think: 
1) Will pros give you a competitive advantage? 
2) Will cons undermine the project's vitality? 
3) Are you ready to address the cons? 
Sometimes access to new tools is not enough to overweigh the many steps you will take to prepare for outsourcing. And vice versa – sometimes the costs will be so enticing that you will be willing to dedicate tons of time looking for and selecting the right vendor. 
Only you know your business best – and only you can really tell: is outsourcing the right decision at this point in your business' life? 
And if you have already made up your mind and are ready to step on an outsourcing journey – contact us! SapientPro is a mature outsourcing vendor with extensive experience in blockchain, fintech, e-commerce, e-learning, and GPS tracking, and SaaS solutions. Our teams can provide you with back-end (PHP, Laravel, Symfony) and front-end development services. We would be glad to jump in your project and turn it into your success case!