Ukrainians will never forget the morning of February 24. Some of us woke up to the sound of sirens, others to the sound of bombs, and many to the news of a full-scale Russian war reported from the TVs and phone calls. 
As a matter of fact, Russia's war against Ukraine began eight years ago, but only on that unfortunate morning of February, it went full-scale. 
At the time of writing this article, Ukraine is on its 12th day of resistance against Russia. The Russian army has been committing numerous war crimes: shelling and bombarding civilian buildings, hospitals, and schools, shooting families and children, firing at humanitarian corridors. 
An unprovoked war by Russia is a crime in and of itself. But even throughout this bloody war, Russians break all war rules. Enemy forces believe they have the freedom to do literally anything cruel and immoral.
So under such circumstances, Ukraine needs help not only from Ukrainian citizens, who are actively volunteering and donating, but also from the international community. The entire world can make a real difference in this war and help overcome the evil forces of Russia. Here are some ways:
#1
Donate for Humanitarian Aid and the Army
The National Bank of Ukraine has created two accounts that accept multiple currencies from abroad. These accounts are dedicated to allocating money for the army and humanitarian help to those who suffer from war consequences. 
Another fund you can donate to is called Come Back Alive NGO. This organization was established in 2014 when the Russian war against Ukraine started. At the moment, they are working 24/7 to provide the Ukrainian army with the needed protective gear, arms, and equipment. 
For ways to donate to Come Back Aline NGO (​​Swift, Fondy, Bitcoin), click here.
The organization highlights the importance of cryptocurrency donations since they enable a faster purchase of goods from abroad. Their wallets: 
Bitcoin Wallet

– bc1qkd5az2ml7dk5j5h672yhxmhmxe9tuf97j39fm6

Ethereum Wallets

(eth, usdt, usdc) 1.0x93Bda139023d582C19D70F55561f232D3CA6a54 2.0xa1b1bbB8070Df2450810b8eB2425D543cfCeF79b 

trc20 Wallet

(tether) TX9aNri16bSxVYi6oMnKDj5RMKAMBXWzon
Another fund you can donate to is the one created by Serhiy Prytula – a Ukrainian TV presenter, volunteer, and social activist. His fund is dedicated to helping the Ukrainian army.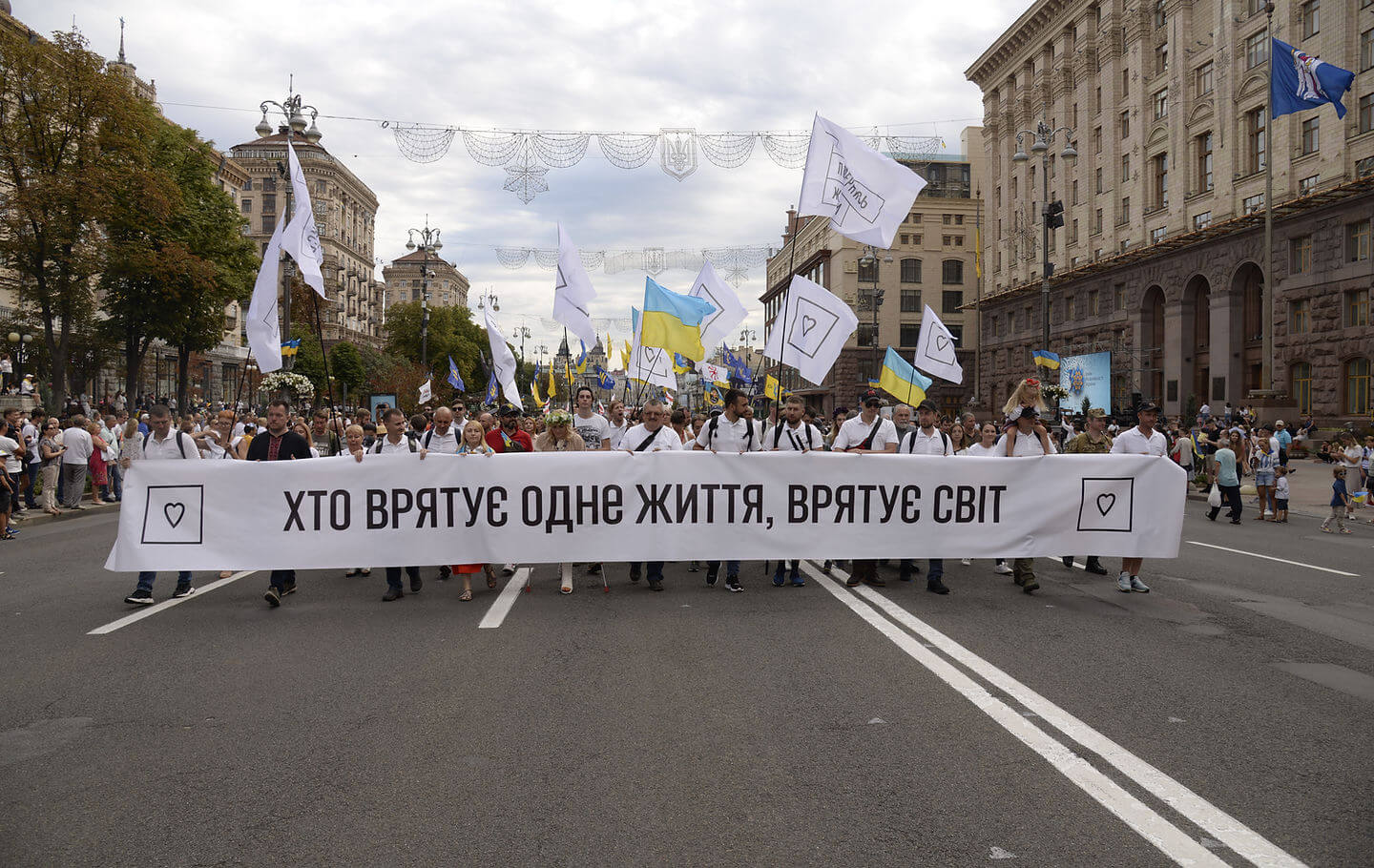 #2
Transport Products in Shortage to Ukraine
It is common for goods to be scarce during the war, especially those pertaining to the military. Bulletproof vests, for example, are hard to find in Ukraine. And even before the beginning of a full-scale war, bullets have disappeared from gun stores as people purchased all of them in preparation to fight back the Russian army. 
Currently, we have the greatest need for military equipment, drones, protective gear (cat 4+ vests, helmets), flashlights, generators, optics of all kinds, and medical supplies.
#3
Use your Voice to Demand Help From Your Governments
Ukraine is very grateful to all the countries and organisations who helped Ukraine with donations, humanitarian help, military aid, and sanctions against Russia. Despite the massive support of Ukraine and the isolation of Russia, the Russian army still bombs and shells our cities. Russia has not been isolated enough. 
As a result, there is still a need for the help of other countries. Take part in peaceful protests in your city and demand more military and humanitarian assistance for Ukraine. Ask your authorities to create a pool of evidence for the Hague International Court of Justice. Tell your government to stop collaborating and trading with Russia and implement an embargo on oil and gas from there. Ask to implement more sanctions.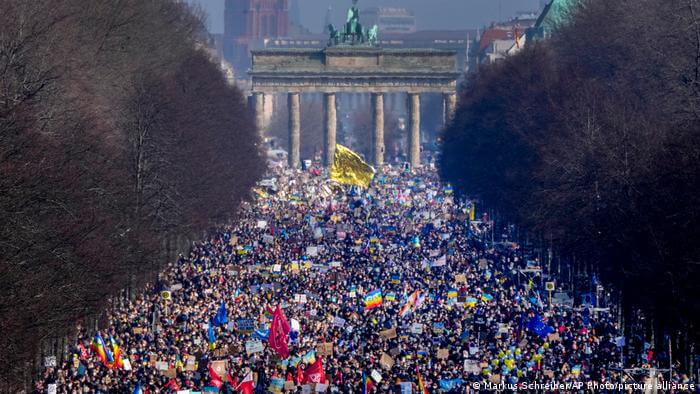 #4
Cease Collaboration With Russian Businesses and Individuals
Supporting the Russian economy means supporting the war against Ukraine right now since that money is used to buy bullets and bombs that kill our citizens. Please, do not deal and collaborate with Russian businesses. Their taxes are the funding of the Russian army. 
Also, please, encourage other companies and enterprises, including the global ones, to cease operations in Russia. It is crucial to isolate Russian society from all products and services to push them to overthrow Putin's regime. If not for all the Ukrainian lives lost in this war, then at least for their own comfort. 
Here's a list of only a small portion of businesses that banned Russia. Follow their example!
#5
Support Ukrainian Businesses
The Ukrainian economy must continue to function, despite the adversities and hardships of war. The Ukrainian economy equals the welfare of Ukrainian citizens and the efficiency of the Ukrainian military.
We know: our European, American, and Asian partners allocate money to support our economy. We see: many global brands and celebrities donate money for humanitarian help. One of the most important steps you can also take is to continue collaborating with your Ukrainian partners. 
Ukraine's businesses continue to operate with increased security and better risk mitigation measures. Not all of Ukraine is currently a battleground. Continue the work you do with Ukrainian companies, and we will not let the Russian army spread further because we will remain strong! 
#6
Spread Reliable Information About Ukraine and Tackle Fake News
Russian disinformation, bots, troll farms, and fake news are some of the weapons they use in this war. When discussing Ukraine, make sure to cite relevant and reliable sources. Everyone must know the truth about every Russian army action and war crimes so that there is no misunderstanding of what Russia really turned into. Here are the reliable sources you can use: 
#7
Speak About Ukraine Correctly
It is important that you use the correct wording when speaking about Ukraine and Russian war against Ukraine. 
INCORRECT: Ukrainian crisis, Ukrainian conflict, Civil war

CORRECT: Russian-Ukrainian war.
INCORRECT: Annexation of Crimea.

CORRECT: Temporary occupation of Crimea.
INCORRECT: Separatists

CORRECT: Russian forces.
INCORRECT: Kiev, Odessa, Donbass

CORRECT: Kyiv, Odesa, Donbas
INCORRECT: Russian invasion

CORRECT: Further invasion, Russia's large-scale war against Ukraine
INCORRECT: Post-Soviet state, The Ukraine

CORRECT: Ukraine
Source: Svidomi
#8
Provide Support to Ukrainian Refugees
Unfortunately, it is extremely unsafe for civilian people to stay in some regions of Ukraine. Due to continuous, never-stopping shelling and bombing, they are forced to relocate to either other cities of Ukraine or abroad. 
You can help Ukrainian refugees in your country by providing them assistance with a place to live, a job, food, etc.
This is an unprecedented time in the history of Ukraine, as well as the whole World. But Ukrainians remain strong, united, and determined to resist. 
SapientPro is a small IT company from the small city of Chernivtsi, which is in the west of Ukraine. At the moment, we have only experienced several air raid sirens and a large number of refugees. Therefore, our company as a whole and each employee personally actively volunteer and make regular donations. 
We also ensure our operations are continuing without a hitch. Our development teams are all working as was agreed upon. 
We are really thankful to our clients who not only continue to work with us despite the war but also support Ukraine in every way they can. 
Stand with Ukraine!